My book Feminist Speculations and the Practice of Research-Creation: Writing Pedagogies and Intertextual Affects is coming out in September, 2021.
Here's the background on it and some endorsement blurbs.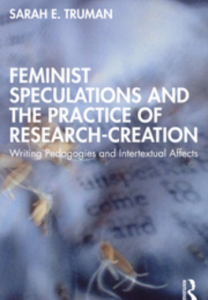 Feminist Speculations and the Practice of Research-Creation provides a unique introduction to research-creation as a methodology, and a series of exemplifications of research-creation projects in practice with a range of participants including secondary school students, artists, and academics.In conversation with leading scholars in the field, the book outlines research-creation as transdisciplinary praxis embedded in queer-feminist anti-racist politics. It provides a methodological overview of how the author approaches research-creation projects at the intersection of literary arts, textuality, artistic practice, and pedagogies of writing, drawing on concepts related to the feminist materialisms, including speculative thought, affect theories, queer theory, and process philosophy. Further, it troubles representationalism in qualitative research in the arts. The book demonstrates how research-creation operates through the making of or curating of art or cultural productions as an integral part of the research process. The exemplification chapters engage with the author's research-creation events with diverse participants all focused on text-based artistic projects including narratives, inter-textual marginalia art, postcards, songs, and computer-generated scripts.The book is aimed at graduate students and early career researchers who mobilize the literary arts, theory, and research in transdisciplinary settings.
Reviews
"In this wide-ranging study, Sarah E. Truman argues for research-creation as a situated speculative feminist approach to education in our times. Drawing on everything from Twitter bot interventions and postcard excursions, to walking and writing workshops with high school students, Truman foregrounds queer, anti-racist thinking in our spaces of teaching and learning, offering a clear, cogent discussion of research-creation as an interdisciplinary methodology that defamiliarizes and challenges normative educational models. A vital book for anyone attuned to social and ecological justice, art, and pedagogy today." 
— Natalie Loveless, Associate Professor, Contemporary Art History and Theory, University of Alberta, Canada; Director, Research-Creation and Social Justice CoLaboratory
"In this book, Sarah E. Truman brings a vibrant array of theoretical lenses with which to creatively rethink and redo educational theorizing and methods. Written in compelling critical prose, Truman models her creative thinking practice throughout each chapter of the text. This ground-breaking book is of interest to emerging and experienced researchers who are turning to speculative methods in a time when conventional and empirical methods have failed to address and represent the affective elements of educational events and relations. I highly recommend this text to scholars grappling with how to think, examine, do, and compose education in and as the uncertainty of our times."
— Aparna Mishra Tarc, Associate Professor, Graduate Program Director, Culture, Language & Teaching, York University, Canada
"It is hard to imagine a better traveling companion than Sarah E. Truman. She knows how to forge entirely original paths through the thickets of contemporary theory and pedagogic encounters, artfully, ethically, critically, with such immense feeling. Sarah knows when to use a map and how to make your own, and it is usually the latter. Trust her guidance! And rest assured: there will always be pee breaks."
— Gregory J. Seigworth, Professor of Communication Studies, Millersville University, USA